I have volunteered with March of Dimes as a walker and as head chair of the annual Chef's Auction here in Jacksonville, FL for years now so it seemed first nature to take up the photography needs of the organization to help promote awareness. After photographing the 2011 Chefs Auction at the Florida Yatch Club I volunteered to help lobby for preemies and policies day at the capitol in Tallahassee, FL and they contacted me to let me know that they needed a photographer a few days before the event so I packed up my camera and headed out :) It was a great experience and such a great cause...I would encourage anyone looking for a good organization to volunteer for here in Jacksonville, FL or any other major city in the world to consider the March of Dimes walk every year in Spring.
Some of the beautiful photographs of success stories...parents who volunteer with the March of Dimes and had a personal experience with assistance from the March of Dime when their children were born prematurely had their photos printed on canvas prints and hung on the walls of the welcome reception.
Melissa Joiner and a few of the other employees and lobbyist for the March of Dimes getting ready for a long day in session!
A few speakers preparing the volunteers for a long day of speaking to over 22 elected officials including Governor Scott and Lieutenant Governor Carroll on behalf of babies born prematurely across the world
It was so encouraging to see so many young students, parents with their children and elected officials taking the time to raise awareness and fight for premature babies and awareness education for pregnant mothers.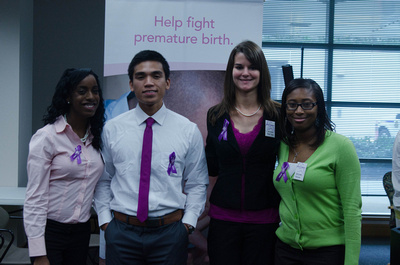 A few group shots of everyone at lunch waiting on a few elected speakers that came down to thank everyone for their time and commitment to the March of Dimes and then a group shot from the end of the day in the Governors Office getting ready to meet and shake hands with Governor Scott himself.
It was such an honor to be apart of such a great cause with so many people and they did end up successfully getting their bill to pass that will provide education to pregnant mothers about the dangers of certain prescription drugs during pregnancy and the high rates of babies born addicted to prescription drugs.