Today I have another great Maternity Session to share with you. I was so excited during the pre-planning of Kiarra's maternity session with her and when the time came we had so much fun! Being pregnant is such a special time in a mother's life and when you think about it your maternity portraits are the first pictures you will ever have of you and your child. It's a special bond between a mother and child. She really wanted to get some classic yet creative portraits at her session so we had so much together. She is a beautiful mother and I just can't wait to see her beautiful little boy Ladarrius who should be joining us on January 4, 2013.
This first photograph was one of our first shots. We started out with some All-American shots at the beginning and found these beautiful wildflowers and wooden boards on the side of the beach and just had to use them as a backdrop and then we headed across the street to a little bridge trail that goes over the inter coastal...this is one of my favorite spots to shoot on the beach!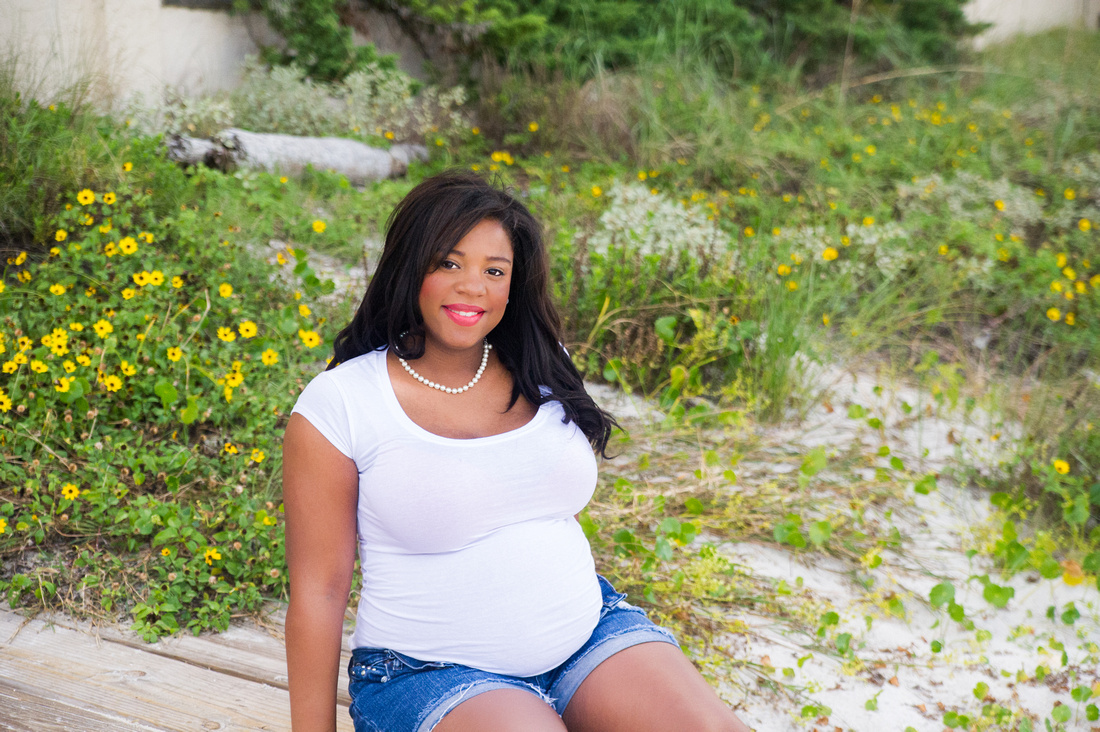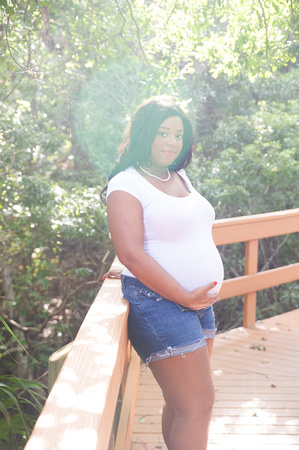 Once we were ready to change into the fabric to get her classic-chic fabric shots we saw an open door to the back of a parking garage right behind the wildflowers with a chair inside for someone so as a photographer does, we took that as an invitation to change there for a little added privacy! Once we got started it took a little time to get the cheesecloth and fabric wrapped and pinned around her and about half way through a maintenance guy came to the back part of the garage to get something and gave the that "What in the world is she doing" look that I am all too familiar with as a photographer! it was totally worth it because we got some truly amazing shots and had the most beautiful lighting at the beach to set the mood and Kiarra can sure get her model on, she was so much fun! I think that being pregnant is such a huge milestone in life and a time where you should feel just as sexy, if not more sexy, as any other time in your life.
After a while we decided to take a spin on getting some shots near and in the water. It was a breezy evening at the beach already and believe you me that water wasn't very warm but Kiarra was a trooper!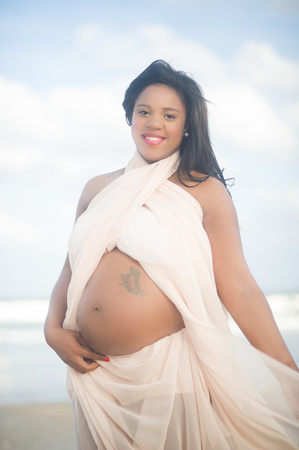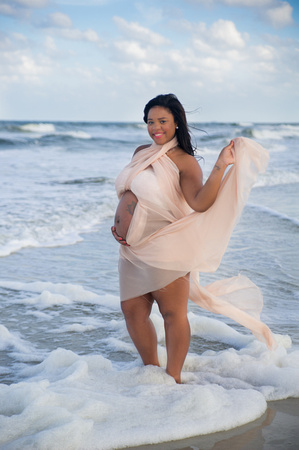 I saved one of my favorite images for last from Kiarra's Maternity Session. I think this shot of her just beyond the sea grass looking out at the ocean tells the story of how much she is already in love with her little baby boy even before he is here :) I can't wait to meet the newborn and see just how great of a mother she is like I know she will be. If you have are expecting a baby or just received your special little one be sure to contact us by email at courtneywhitehurstphotography@gmail.com or by phone at (904) 314-0834 to receive more information on our "babies first year" packages and our current specials that are running! and don't forget we have a great contest running you can see how to enter on the blog below!